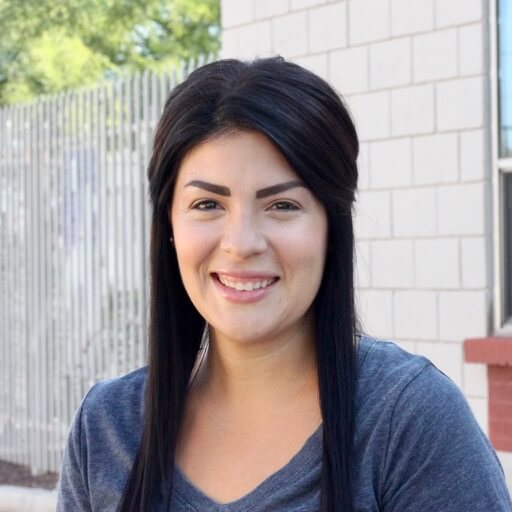 Carla Rivera! She is our Attendance and Discipline Coordinator at Himmel Park. She is an incredible asset to our school — and our Edge high school students will love hearing about her life. From Puerto Rico to Atlanta to Tucson… she is a dynamo.  Here's more:
When did you know you wanted to be an educator?
I knew I wanted to be an educator after graduating college and working with families in the community.  I saw that spending time with youth as they learned was fun and adventurous.
What's the best advice you've been given about teaching?
Best teaching advice I've received was that no matter what we are doing in every subject, activity, and interaction … I should "make sure the message of love gets through."
In your opinion, what's the best part of teaching?
For me personally the best part of teaching is learning new ways to help people understand the subjects that are hard for them.  When thinking outwardly though, the best part is seeing the "light bulb" moment give someone confidence they didn't have before.  These things and just getting to laugh with youth and learn their hearts!  It's so much fun!
And what's the hardest part of teaching?
Hardest part of teaching to me is when students give up on themselves … when they can't overcome the negative self-talk.  It doesn't ever stay that way but each moment it happens is still hard to watch.  But that's what we are here for . . . to help and encourage positive growth.
How do you stay organized?
How do I stay organized!!!??   I am a bit of a post-it diva. I have way too many post-its everywhere!   But the satisfaction of crumbling them up after I remember or complete a task is quite the thrill.  Haha!  Also I write on my left hand with a sharpie.  Go ahead and look; my grocery list is on there and I need some yogurt.
Why is Edge the school for your teaching goals/How does Edge align with your principles/mission as a teacher?
Edge is full of staff members who love to see students learn and overcome academic and personal obstacles.  We love to meet students where they are at and help them climb as far as they want to.  I love being in a place where the whole individual is focused on as we provide both academic and social/emotional learning opportunities.
What is something students at Edge have taught you?
Students at EDGE have taught me what not giving up can look like.  They have taught me how much fun it can be to learn from different cultures and personalities.
How do you practice self-care?
For self-care I LOVE to hike, trail run, work out, spend time with people I love and that love me.  I pray, clean, organize, eat good food, and spend time in the sun by the pool anytime I can!  Oh and I may spend WAY TOO much time on instagram and tiktok . . . don't judge me! You do it, too!
About Edge
EDGE is a Cognia accredited, tuition-free, charter high school, with two campuses in the greater Tucson area. We provide an alternative to traditional education, meeting the diverse learning and life needs of our students with our blended curriculum and flexible morning or afternoon class schedules. Our high-quality, passionate teachers are dedicated to individualized instruction in our small academic classes. Be you. With us. At Edge.