Hello Edge Students and Families –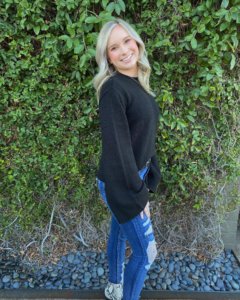 For those who do not know me yet, I am McKenna Scheldt and I am currently a second semester Senior at the University of Arizona. I am a public health major with an emphasis in health systems theory and practice. My current plan after graduation is to go into pharmaceutical or medical device sales. I am an intern for Edge High School this semester. With the uncertain times that are occurring in the world right now my fellow interns and I still wanted to connect and share our passions for public health along other various health topics and how we are coping with COVID-19.
Today I wanted to share with you all the topics of emotional health and how I am managing during the stay at home order.
Today I wanted to share with you all the topics of meditation and mindfulness and how I am managing during the stay at home order.
Meditation is a practice where individuals focus on specific thoughts or items. Mindfulness is being aware of what is happening in the present and surroundings.
These practices are things I had tried before in the past but had not really been active in until recently. A class I took this spring semester began each class with a meditation that was focused on mindfulness. I began to really enjoy this part of the day. It helped me to focus on the present and remind me of the good things that are still happening during this pandemic. These are practices that you can do almost anywhere. I have been listening to them and doing the meditations at home during the pandemic, but before I would do them at home or at school. Most of the ones that I do are just five minutes long and make a huge impact on the rest of my day.
A lot of people recommend meditation for those who struggle with anxiety, insomnia, restlessness, etc. in their daily life. Some meditation and mindfulness practices can be short, and some can be long. I recommend starting with short videos and working into the longer ones if those become more appealing.
Below I have linked a few meditation and mindfulness videos.
https://www.youtube.com/watch?v=MIr3RsUWrdo
https://www.youtube.com/watch?v=t6uvlMPglqE
https://www.youtube.com/watch?v=ItbWOIKzrRk
https://www.youtube.com/watch?v=SEfs5TJZ6Nk
https://www.youtube.com/watch?v=Fpiw2hH-dlc
Stay healthy,
McKenna