Hello Edge Students and Families –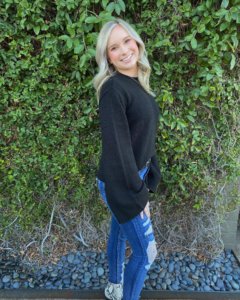 For those who do not know me yet, I am McKenna Scheldt and I am currently a second semester Senior at the University of Arizona. I am a public health major with an emphasis in health systems theory and practice. My current plan after graduation is to go into pharmaceutical or medical device sales. I am an intern for Edge High School this semester. With the uncertain times that are occurring in the world right now my fellow interns and I still wanted to connect and share our passions for public health along other various health topics and how we are coping with COVID-19.
Today I wanted to share with you all the topics of emotional health and how I am managing during the stay at home order.
Emotional health was overlooked for many years and can still be at times. It is starting to become a large topic of conversation though as people are becoming more aware of mental and emotional health and destigmatizing it.
Emotional health encompasses the thoughts, feelings and behaviors of a person and being able to manage and control them.  One can tackle problems head on without too much distress when emotionally healthy. They are also able to keep issues in perspective and be resilient.
COVID-19 has been very challenging for emotional health. It has taken away a lot of big moments like graduation ceremonies for students, weddings, birthday celebrations, family reunions, etc. that were/are supposed to happen during these past/next few months. These moments are usually associated with happiness, excitement, and joyful emotions. That fact that they are unable to happen can lead to sadness, sorrow, and even depression.
For me personally I missed out on my last events for my sorority, last moments as a student, and I do not get to have a college graduation. It was heartbreaking when I heard the news. I have worked so hard for four years to feel like it's all downplayed by this situation. I didn't even get to say goodbye to so many of my friends that live out of state, as I left for spring break and found out during that time that we were not going back. Throughout this quarantine situation my emotions have been constantly changing as I am coping with not having the closure of saying goodbye to my life as a college student before moving on into the real world.
What has helped  me to cope with this situation is to stay in touch with my friends via texting, facetime, and zoom. I am also planning on participating in a virtual graduation ceremony in May. While these are not the same as what was originally planned, it is helping me to feel some sense of normalcy.
Never hesitate to reach out to friends, family, loved ones, or anyone you trust in time of need. It doesn't have to be about COVID-19, but it can be. Below are some additional resources.
Trevor Project Lifeline- Hotline for LGBT youth 866-488-7386
Child Help USA National Hotline- For youth who are suffering child abuse 1-800-422-4453
Boys Town National Hotline- Serving all at-risk teens and children 800-448-3000
National Teen Dating Violence Hotline- Concerns about dating and relationships 866-331-9474
National Suicide Prevention Lifeline- 800-273-8255
Stay healthy,
McKenna