Hello Students and Families!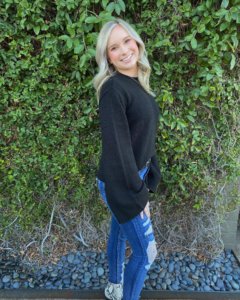 I am McKenna Scheldt and I am currently  a second semester senior at the University of Arizona. I am a public health major with an emphasis in health systems theory and practice. My current plan after graduation is to go into pharmaceutical sales. I am an intern for Edge High School this semester. With the uncertain times that are occurring in the world right now my fellow interns and I still wanted to connect and share our passions for public health along other various health topics and how we are coping with COVID-19.
Today I wanted to share with you all the topics of nutrition and how I am trying to maintain a balanced diet during the stay at home order.
Nutrition was not something that was a passion of mine until I was in college. In high school I was involved in multiple sports and activities and could eat whatever I wanted and not gain any weight. It was not until college, when I was not even 25% as active as I was previously, that I realized I needed to treat my body better.
Early in my college academic career I took a nutrition class. I also learned a lot about nutrition in many of my introductory public health classes. These classes taught me how to maintain a balanced diet and how to treat my body so much better. It was during this time when I really started making different lifestyle choices regarding nutrition. I reduced my soda intake and increased how much water I drank daily. I increased the amount of vegetables I ate and incorporated more fruits into my diet by having those as snacks. I also learned how to use proper portion control. The biggest difference for me was I used to consume a lot of empty calorie foods which are foods that do not provide the body with vital nutrients. They also leave you feeling hungry not long after eating. This led me to snacking far too often. When I replaced many of these empty calorie foods with nutrient dense foods (foods full of vital nutrients) I stayed full longer and saw a huge difference.
During this time of shelter in place I have been cooking at home. Some of the items I have wanted or needed for certain recipes have been sold out at the grocery stores so that has been difficult. I have luckily been able to find enough meat and vegetables to maintain most of the diet I had before. Before the shelter in place I would eat salads roughly 4 times a week for lunch and I have not been able to maintain this part of my diet. I am able to maintain most of the core nutrients necessary, just not in the same way as before. When I go to the store I will usually purchase what is available and find a new recipe to try that uses the ingredients I have available.
Linked below is MyPlate which has tips and tricks on all aspects of a healthy diet and shows how much of your plate should be filled with each category (protein, vegetables, etc.).
I also recommend using pinterest or even searching on google for new recipes to try especially while we are all spending extra time at home.
Stay healthy,
McKenna