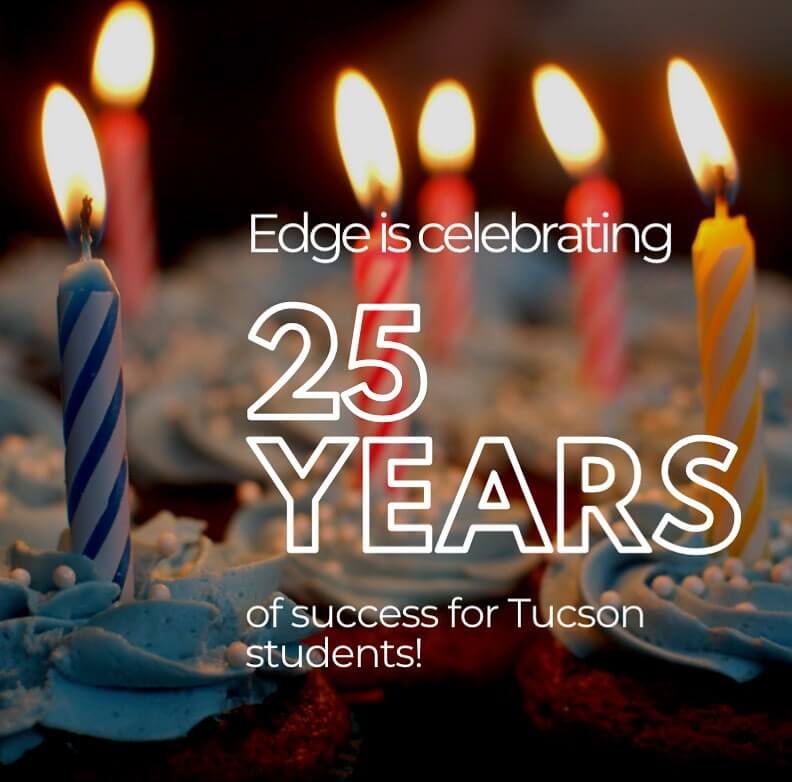 This post was written by Rosanne Webster, who taught English at Edge from August of 2004 until her retirement in June of 2010. Thank you, Rosanne for sharing your EDGE memories! Check out our playlist on Facebook to see more birthday messages and memories from our EDGE community. 
Six years… 2004-2010… Thank you EDGE!!!
I began my teaching career in New York state in 1970. The last few years of my tenure in New York, I was tapped to teach a very challenging group of young men who had to meet a state requirement in foreign language… a subject they would not have chosen, at all. These were those "kids" who had been written off… give them the non-collegiate courses and hope they make it to 16 years old, then they'll likely leave school. Sound familiar? What was not known was that these young people had gifts to offer and that it was they who made me a true educator… in the true essence of the word and all that it encompasses, especially in today's world.
EDGE… a charter high school? Do I want to pursue my career in Arizona with a charter? (New York had, and may still have, an "attitude" toward charter schools) At my interview, I met three outstanding people — 2 tried and true professionals and a very open-minded, rather wide-eyed young man whose career path brought him to EDGE in a round about way.
I was blessed and privileged to work closely with that young man as a teammate to help establish EDGE Freshmen Academy. Rob and I were "The Odd Couple" and were given a ghost of a chance (by only a few) to succeed… Old school methods mixed with youth and vigor… and different outlooks. Yet, succeed we did! The Academy was at the forefront of recognizing that the first year of high school was the most important in contributing to the success of the students throughout high school. This educational "project" gave the students a sense of belonging and community. It also took away any lack of confidence, gave them esteem, gave them a chance to be a part of something. A good education was now understood to be the foundation of a future bright with possibility. We were "small but mighty" The Academy lasted for only a short 2 or 3 years, but were some of the best years of my 40 year career.
Needless to say, the "kids" — I met some of the most wonderful young people —
The beautiful young man for whom EDGE was a safe place as it was, and is, for so many of our students. His writing was outstanding! He was so shy, so we helped him apply for a scholarship for Hispanic youth and he then entered Pima Community after graduation. Joel left us in life, far too soon…
The 2 best friends… one whom I thought would be TROUBLE, for certain, yet was gifted with a heart of gold, a humor that was boundless, and a sense of goodness. The other, another brilliant young man, who was living on his own so EDGE helped him find financial help, as EDGE has done for so many —
And the "girls".
So many!! The sisters, the best friends, the twenty-somethings who finally realized that it was they themselves who could provide for a good life… EDGE gave them confidence, esteem, self-worth and a way to find their own career path and to not feel the need to depend on someone else to provide. They became strong right in front of our eyes!
The proms, the fashion shows before the proms (the look on their faces when they saw the prom at the Westin La Paloma), the Thanksgiving lunches, the Christmas lunches, GRADUATION (what an amazing event!!), lifelong friendships, parking lot garage sales, a community garden, success stories, some sadly experienced losses which brought students and staff together in support and loving attention.
Terrific staff! Terrific support staff!
Educational advances that large public schools did not, and in many cases, still do not employ.
Dedication, Devotion, Community.
THANK YOU, EDGE! Here's to another 25+ years!